(More) natural Markermeer IJmeer
Until some years ago the lake Markermeer was reserved for the construction of the last IJsselmeerpolder called the Markerwaard. In 2006 it was decided not to impolder the Markermeer. That is why the government, the provinces and the municipalities are now making new plans for the Markermeer and the IJmeer.

The project 'More natural Markermeer IJmeer (NMIJ)' is part of the so called Program Randstad Urgent (PRU). This program is designed to make De Randstad a competitive top-class region in Europe again. One of the themes within the program concerns the realisation of an attractive environment for living, working and social life. Within this subject the project Toekomstagenda Markermeer IJmeer (TMIJ) will be conducted under the direction of the provinces of both Flevoland and Noord-Holland.

Through the practical experience in the Markermeer IJmeer, the project NMIJ must show which investments in nature development are the most promising for achieving a robust ecological system and a climate-proof watersystem in Markermeer and IJmeer.

One of the ecological experiments from the research more More Natural Markermeer IJmeer consists of the construction of a temporary shelter structure near Warder on the NoordHolland sea coast of the Marker lake (Markermeer).
The experiment is expected to be built in June and has a maximum duration of one year. This structure, which is present from late May 2011 until July 2012, is part of the research for the possibilities to get clearer water. This will be achieved by reducing the amount of floating sludge. The shelter structure consists of a sheet pile wall at some distance from the coast. The location is marked by extensive buoyage and lighting. After the measuring program 'clearer water' is completed the dam will be removed again. The measurement results are used to assess the activity of any possible permanent shelter structures.

Commisioned by De Klerk Waterbouw in Werkendam GSNED, the fieldwork department of BMNED, will perform 18 CPT's on water at a distance of approximately 100 meters up to 2000 meters off shore. The CPT's will be put through to a depth of about 18 meters below the sea bed at a water depth ranging from about 2 to 4 meters.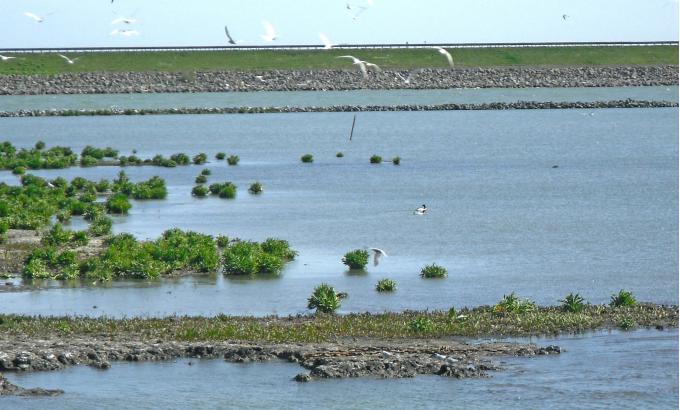 Facts & Figures
BMNED / GSNED
De Klerk Waterbouw
Geotechnical fieldwork
Knowing more?
BMNED